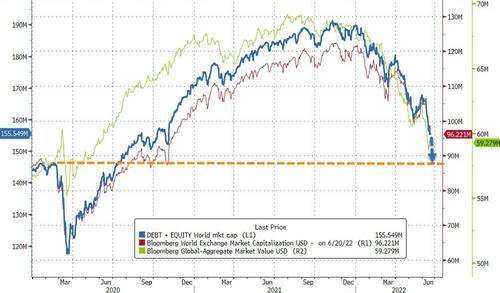 As this chart of the day demonstrates, the S&P 500 is currently on track for its worst H1 performance since 1932 at the depths of the Great Depression, having shed -22.3% so far this year in total return terms. That just edges out 1962, when the index lost -22.2% over the first six months of the year.
But for those with a traditional 60/40 type portfolio, the news doesn't get any better, since 10yr Treasuries are currently on track for their worst H1 since 1788.
Globally, bond and stock markets combined have lost a stunning $36 trillion dollars from their peak.
But, there is good news:  For investors looking for some positives may be comforted to learn that the 5 worst H1 performances for the S&P 500 before this year, all saw very good H2 performance.
Indeed, on 4 of those 5 occasions, the index went on to gain at least +17%, with the other seeing a +10% gain.  In order of H1 declines, we saw:
1932: H1 -45%, H2 +56%,
1962: H1 -22%, H2 +17%,
1970: H1 -19%, H2 +29%,
1940: H1 -17%, H2 +10%,
1939: H1 -15%, H2 +18%.
Key bit:  Still, what happens in H2 is quite binary: if we don't see a recession materialize over that period, Reid suggests that it might be tough for markets to continue to be as bearish as they have been, and a bounce back resembling history might be possible. However, it's hard to see markets recovering if we see firm evidence of the recession.
Hat tip Zerohedge.com