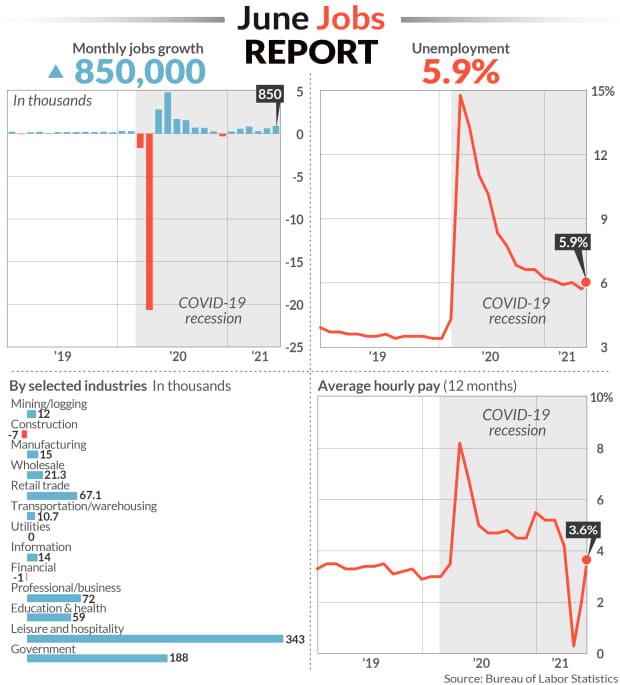 The numbers:  The U.S. created a robust 850,000 new jobs in June as the economy perked up and companies rushed to add more workers, but at the current pace of hiring it's likely to take more than a year before employment returns to pre-Covid levels.
The increase in hiring last month — the biggest in 10 months — easily exceeded Wall Street's estimate. Economists polled by The Wall Street Journal had forecast 706,000 new jobs.
Most of the new jobs were clustered in service-oriented positions at restaurants, hotels, retailers and the like.
Government payrolls also rose by 188,000, but that was largely the result of pandemic-related effects on education and should be discounted, economists say. If those jobs are set aside, the job gains in June were a bit less impressive.
The unemployment rate, meanwhile, rose slightly to 5.9% from 5.8%. The official rate likely underestimates true unemployment by two to three percentage points, economists say.
The labor-force participation rate, reflecting the share of able-bodied people 16 or older who were in the labor force, stood at 61.6% in June —the same as it was last October.
More:  In June, the average wage rose 10 cents, or 0.3%, to $30.40 an hour. Wages have risen a larger than typical 3.6% over the past year.
Many companies say they are offering higher pay to attract workers, but the pandemic has skewed the government's statistics and it's still unclear how rapidly wages are going up.  Economists say it will be awhile until the wage numbers become reliable again and they can figure out what it really going on.
More here from MarketWatch.com:  U.S. gains 850,000 new jobs in June in sign of strength for the economy – MarketWatch