Courtesy of Bloomberg, the following concise overview dropped into my inbox this morning and provided some perspective after the recent and ongoing market melt up.
The Santa rally may not come to town. Many investors are primed for a year-end gain in risk assets, courtesy of a vaccine and possible stimulus breakthrough. But a number of warning signs are flashing. Check out the charts throwing cold water on the run.
Pass the Bollinger: A stellar November helped the S&P 500 close above its upper monthly Bollinger band. Following each of the last three such occurrences, the benchmark posted declines for at least the next two months.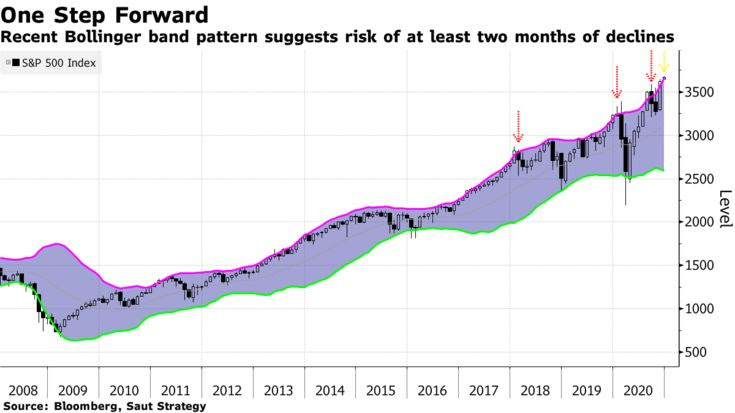 Option fever: A Cboe gauge measuring the volume of bearish options bets relative to bullish ones for single stocks is also highlighting investor positivity at extreme levels. The indicator's five-day moving average has hit its lowest level in 20 years.
All for one: The rally has been so broad that almost every stock in the S&P 500 is in a technical uptrend. A whopping 93% were trading above their 200-day moving average this week. That's the highest in seven years.