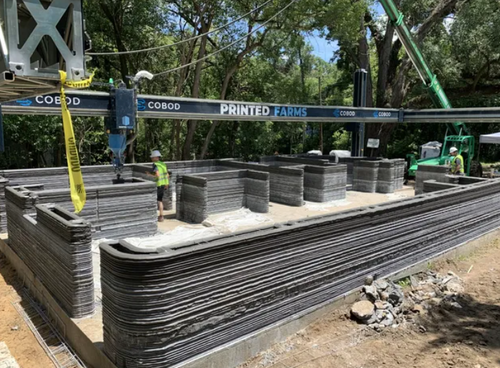 Construction began last Thursday on a plot of land in northwest Tallahassee and should wrap up by the end of the week. The automated printer is suspended on four posts and lays about two feet of concrete per day.
Printing walls out of concrete instead of stick building with lumber and other materials is a huge cost saver and requires very little labor besides a small crew manning the printer, which follows a predetermined path for exterior and interior walls. 
Construction takes about eight to 10 weeks for a three-bedroom, two-bathroom house. It will cost around $175,000 and $200,000, Light said. The cost savings is noticeable considering the median US-existing home price surged to a record $350,000 last month.
More here from Zerohedge.com: Florida's First 3D-Printed Home Under Construction Amid Housing Affordability Crisis | ZeroHedge